PRODUCTION
Today our company is dedicated to the production, packaging and marketing of capers, olives and olive oils.
Our factories are equipped with the most advanced and lasts technology that allow us to produce our quality products
Our pursuit of quality starts with the raw materials and we control the production process from source to the final product.
We are thus able to guarantee the originality and high quality of all our products.
OUR PRODUCTS
Our products are sold both in bulk for further industrial use
or packaged, in glass, PET or cans, under one of our brands,
of which "La Pedriza" is the principal.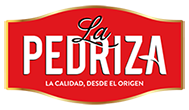 We continue to grow every day, both with our brands as well as with private brands,
which we supply to some of the most important distribution chains in the world.
The good work, a qualified team, latest technology and the high quality standards
characterizes our company. From the beginning have preserved our
purest tradition, committed to product and service quality.